Rogers massive $5.2 billion, 12-year NHL deal has shaken the TV industry. The deal is for national TV and digital/internet rights for all regular season and playoff games and was voted Canadian business
story
of the year.
Why would Rogers pay so much for NHL games? The deal averages about $435 million annually, roughly $300 million more than the combined sum
TSN and CBC
TV have been paying for national rights. CBC TV is left carrying some Saturday night hockey but all ad revenues flow to Rogers, starting in fall 2014. TSN is scrambling for crumbs, including local TV rights in Ottawa and Montreal (French), giving them a select number of games that can only be aired regionally. TSN's desperation showed when it
reportedly
paid $400 million for the regional rights to Ottawa Senators games for the next 12 years.
Rogers is counting on increased advertising revenues to pay for the deal. It hopes that by broadcasting over 500 games, including Saturday night games, not just on CBC but also on CITY TV, Sportsnet, Sportsnet One and Sportsnet 360, as well as Sunday night and mid-week games, substantially more ad revenue can be generated.
But Rogers may be disappointed -- Canadians already have access to a large number of televised NHL games. CBC airs just over 100 games per year and TSN/TSN2 and Sportsnet each air almost 200 games per season, although Sportsnet games are only available regionally. In addition, the NHL's own network airs a small number of games, as do NBC affiliates and the superstation WGN. There are also French-language broadcasts of roughly 200 games each season for die hard fans. Many viewers already have access to over 500 NHL games/season on regular TV and cable/satellite and this allows us to project future ad revenues.
The table below trends the total ad revenues of CBC TV, Rogers TV (CITY and Omni), CTV, as well as the specialty channels that carry or will carry NHL games.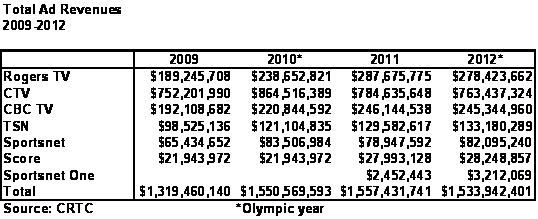 Rogers TV stations generated some $278 million in ad revenues in 2012, about the same as CBC TV's $246 million but only roughly one-third the revenue of CTV. Note CTV's $100+ million increase in 2010, corresponding to the Vancouver Olympics; no similar increase resulted from the 2012 London Olympics.
The four sports specialty channels combined accounted for another $240-odd million in 2012. Specialty channels have traditionally sold advertising at heavily discounted rates and even with a large number of NHL games in their schedules, TSN and Sportsnet have relatively small ad revenues. Ad agencies won't pay the premium rates Sportsnet and TSN would like to charge. The two specialty sports channels together actually generate almost the same hockey audience as CBC but that doesn't translate into the same advertising revenue.
CBC says that it was basically breaking even or
losing money
the last few years on the NHL and we assume in this projection that about one-half its total ad revenue was from NHL hockey. Taking this into consideration, the table below estimates the ad revenue generated by NHL games that past 4 years.

In 2012, CBC, which carried the most highly rated playoff games, generated about $120 million in NHL-related revenue. The revenue may have been even less, perhaps only $100 million. Using audience metrics as a guide, we estimate that TSN and Sportsnet generated roughly $25 million each from their NHL coverage. Thus, using fairly optimistic assumptions, the total ad revenue from the NHL is currently about $170 million.
What will happen next season and beyond? If Rogers airs Saturday night games on CITY TV and its other specialty networks, this will eat into CBC's Hockey Night in Canada audiences and the associated revenue; we estimate a 30 per cent loss in audiences and revenue for games on CBC. Games on CITY will likely feature big market home teams (Toronto and Vancouver) and be very attractive for advertisers. But the net effect of losses on CBC and gains from additional games on Rogers stations, coupled with the fact that there are only so many companies who want to reach the hockey audience at any given time, will mean only a modest increase in ad revenue.
Rogers expects NHL audiences to increase by
20%
overall, which is optimistic, given the audience performance of the more than 500 NHL games currently available to viewers. However, Rogers should be able to increase ad rates somewhat, given that they control all national rights. Assuming somewhat higher rates and a 10 per cent increase in audiences, we estimate that the revenues generated by the additional CITY TV, Sportsnet, Sportsnet One and Sportsnet 360 Saturday, Sunday and weeknight NHL games will generate about $25 million in additional ad revenue, bringing the total in 2014 to about $195 million.
Rogers paid a premium for national NHL rights and the additional TV ad revenues will still leave a financial 'hole' of approximately $240 million. The hole must be filled with revenues from three other sources: sub-licencing to French TV, digital/mobile services and subscriber/fee increases for Rogers specialty channels.
The French TV rights for more than 300 games per year are being sub-licenced to
TVA/TVA Sports
for $120 million annually. The parent company, Videotron, will presumably market the NHL in a similar fashion, especially on mobile devices. Conveniently, Videotron operates primarily in Quebec, with minimal service overlap with Rogers cable and internet. That still leaves a shortfall of about $120 million.
A digital/mobile app for Rogers NHL games on smartphones and tablets could fill some of the gap with ad revenues from viewers on mobile devices. Rogers NHL app would likely be bundled with Rogers cable/internet -- if you are a Rogers cable/internet subscriber, the mobile NHL app would be included in your monthly bill at no additional charge. Bell, Shaw and Telus subscribers will have access to the app but would likely have to pay an additional fee for access on mobile devices. This will bring in more revenue. Digital/mobile revenues are difficult to estimate but let's put the number at $20 million.
The big revenue will come from another, more traditional, source. Rogers will enjoy new subscriptions to its lesser known channels, such as Sportsnet One or Sportsnet 360, which have 2-3 million fewer subscribers than Sportsnet. To see all the games your cable or satellite TV company will have to offer all the Rogers channels. Rogers also plans to air some games on Fx, which you may have noticed from the ads is not yet carried by Bell, and has almost 7 million fewer subscribers than Sportsnet. Leaf fans would suddenly find Fx appealing if the channel carried exclusive Leafs' games. 10 million new subscriptions to Sportsnet One, Sportsnet 360 and Fx would generate $100 million, using current fee schedules.
Rogers could also bundle all its sports specialty channels for one fee, which would simplify matters for the consumer. It will presumably also increase fees for its sports channels, as ESPN did when it secured Monday Night Football. The revenue from new channel subscriptions and fee increases will come not just from Rogers subscribers but Bell, Telus and Shaw subscribers who want access to all the NHL games.
The massive deal has the earmarks of satisfying a lot of Rogers and non-Rogers hockey fans, despite what a faulty Ekos
poll
recently said. The poll planted the idea that it disadvantaged the CBC and then asked respondents if the deal would hurt the CBC. One survey question included a typo, asking about CBC "ad venue" rather than "ad revenue."
Thus, while advertising revenue will probably not increase much, there are additional revenues to be accrued from mobile customers and new subscriptions to existing specialty channels and fee increases for all Rogers sports channels. Cable and satellite TV subscribers and smartphone users will ultimately pay for the NHL deal, which should break even, if not be profitable.
There is one hidden value for Rogers, which is priceless. The NHL deal, bundled for Rogers mobile subscribers, will keep subscribers from switching to other companies and maybe even attract a few from Bell and Telus.